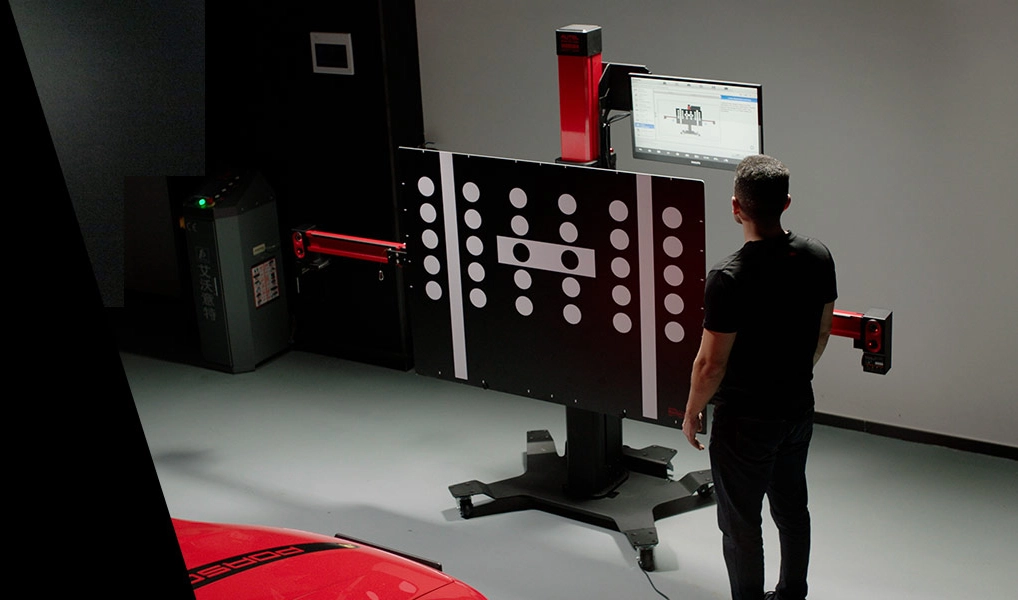 What is ADAS
Advanced driver-assistance systems (ADAS), are technological features that are designed to improve driver safety and prevent automotive accidents. ADAS utilizes sensors such as radar, sonar, lidar and cameras to perceive the world around the vehicle, and either provide critical information to the driver or take automatic action to avoid or mitigate the effects of a crash.
ADAS systems are designed to increase driver safety and decrease the number and/or the severity of automotive accidents. According to a study conducted by AAA foundation, ADAS has the potential to prevent 40% of all vehicle crashes, 37% of injuries and 29% of deaths.
ADAS applications
What they are & what they do
ADAS sensors need to be precisely aimed and calibrated to function correctly. A sensor or camera even slightly out of alignment could result in its scanning area to be off-axis by 50 feet or more, which might cause it to miss hazards.

ACC | Adaptive Cruise Control
Adjusts Vehicle Speed to Maintain a Safe Distance with Vehicles Ahead

LIDAR | Light Imaging Detection
Detects Objects in Vehicle Vicinity to Create a 3D Map of Objects and Surroundings

AVM | Around View Monitoring
Provides 360-Degree, Bird's-Eye View to Help Drivers Park More Easily

NVS | Night Vision System
Improves a Driver's Vision in Darkness or Poor Weather

RCW | Rear Collision Warning
Warns the Driver of Vehicles Coming Close to the Rear of Their Vehicle

BSD | Blind Spot Detection
Detects and Warns Driver of Vehicles in Either Driver or Passenger Rear Corners (Blind Spot)

LDW | Lane Departure Warning
Warns Driver when the Vehicle Drifts Out of Their Lane

PD | Pedestrian Detection
Alerts the driver to the presence of a pedestrian in front of their vehicle

APA | Parking Assistance
Provides audible, visual, or haptic
obstruction warnings during low-speed parking maneuvers

TSR | Traffic Sign Recognition
Recognizes traffic sign info and visually relays it to the driver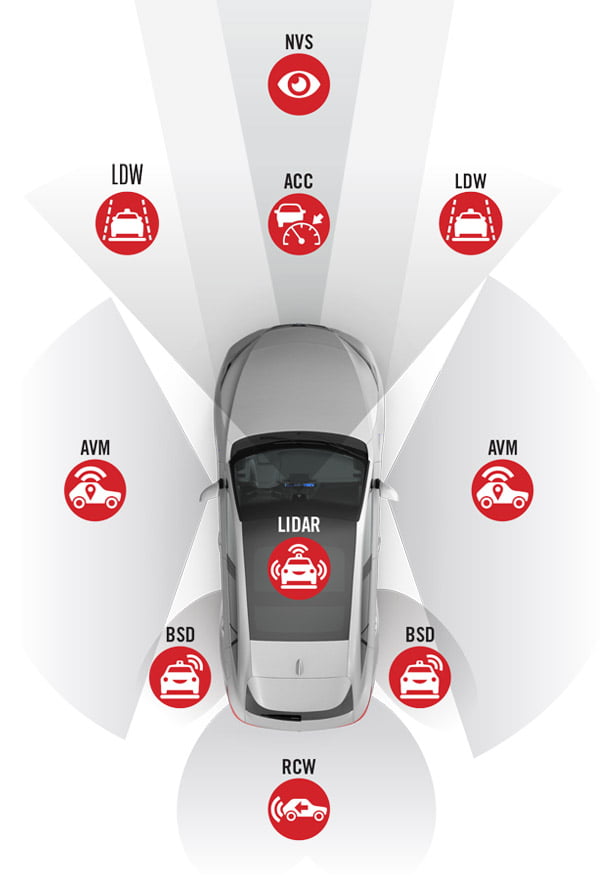 When is ADAS calibration required?
Whenever an ADAS sensor's aiming is disrupted in anyway, an ADAS calibration is required. Disruption can happen during a collision, even a minor fender bender, or as a result of common services like windshield replacement, suspension repair, or wheel alignment.
After Minor Collision
Collision Repair
Windshield or Side View Mirror Replacement
Suspension Repairs
Wheel Alignment
Sensor/Mounting Bracket Replacement
Change In Ride Height or Tire Size
Related DTC Is Present
Front Airbag Deployment If Deflected Off Windshield
ADAS-related TSBs/Manufacturer Position Statement Requirements* 
Mechanical Procedures Like Radiator and Condenser Repairs That Require Removal of Front-Mounted Sensors
*Refer to NHTSA, the manufacturer or ADAS Tech Support for more information

Alignment and ADAS Calibration Are 2 Pieces Of The Same Puzzle
Every ADAS calibration should start with an alignment inspection, and every calibration requires the vehicle to be properly aligned. Today, eleven of twenty-eight vehicles require calibration following a wheel alignment, including Ford, Volkswagen, Jeep, Kia, Dodge, and Subaru. Explore Autel Alignment & ADAS Solutions.
Industry Forecast
The growth of the ADAS Market can be attributed to the increasing adoption of ADAS systems by OEMs for product differentiation and the ever-increasing issue of road safety.
In 2022, 30% of vehicles on North American roads were ADAS equipped, and it is projected that by 2025 nearly 50% will be ADAS equipped, and 75% by 2030.
(AAA and Consumer Reports both say that 92 percent of new vehicles have at least one ADAS system installed)
Keep ADAS Work In Your Shop
If you are performing alignments but not ADAS, or farming out the alignment work before calibration, you are leaving potential revenue on the table. Adding the triple capabilities of the Autel IA900WA; Diagnostics + Alignment + ADAS Calibration in a single system can add an additional $357,854* in annual revenue. Evaluate your shop's potential annual revenue using our ROI Calculator.
*Return on Investment varies based on service volume.
ADAS-Equipped Vehicles in North America
*Based on new car sales of 16 million annually
2022

30%

30%

2023

35%

35%

2024

41%

41%

2025

47%

47%

2026

52%

52%

2027

58%

58%

2028

64%

64%

2029

70%

70%

2030

75%

75%
Contact Our ADAS Experts
Fill out the form below to schedule a free virtual demo, or for technical questions and training inquires.