MaxiTPMS TS608 – Advanced Service + All Systems Diagnostics + Complete TPMS
The TS608 is a combination advanced service, all systems diagnostic, and complete TPMS tool. The 7-inch touchscreen tablet comes equipped with an Android 4.4.2 operating system, a 1.6GHz quad-core processor, 32G hard drive, and the Autel MaxiSYS system suite software. The TS608 features an enhanced TPMS status screen, can read/activate/relearn all known sensors, has two methods of MX-Sensor programming, performs placard value resets on supported vehicles, and displays on-tool MX-Sensor relearn procedures including OBDII relearn. It offers essential diagnostics for all modules in all systems, AutoSCAN and AutoVIN (2006+), can do key fob signal tests, and currently has 20 service functions including ABS brake bleed. The TS608 is updatable via Wi-Fi and includes a wireless Bluetooth MaxiSYS-VCIMini. A 1-year tool warranty and 1 year of free software updates are available with purchase. This tool is eligible for TCP expanded coverage.
| | |
| --- | --- |
| TS6081YRUPDATE: | Total Care (TCP) for TS608 $295.00 |
AutoVIN 2006+ / AutoSCAN: All Modules in All Systems
20 Service Functions /Generates Printable Diagnostic Reports
Enhanced TPMS Status Screen: Detects & Displays System Faults
Read & Erase Trouble Codes/ Test ABS, SRS, EPB
1Yr FREE Software & 1Yr Warranty/ Eligible for Extended TCP Coverage
7" Touchscreen /1.6GHz Quad-Core Processor/ 32GB Memory /2GB RAM
Android 4.4.2 /Wi-Fi Software Updates
Display Manufacturer-Specific Relearn Procedures; Perform OBDII Relearns
Placard Value Reset on Supported Vehicles
I/M Readiness / Emissions Testing
Reset Diesel Emissions on Select Light/Med. Duty Vehicles / DPF Regeneration
Coding & Adaptations
Includes Bluetooth OBDII MaxiSYS-VCIMini
Read/Activate/Relearn All Known Sensors
Covers Domestic, Asian and European Vehicle Manufacturers (1996+)
View Live & Freeze Frame Data
Enhanced Mode 6 Diagnostics / All 10 Test Modes
Key Fob Signal Test
Oil & Service Resets/ Battery Registration
Set Inspection 1&2 Service Intervals
Tests: O2 Monitor, On-Board Monitor, and O2 Sensor
Open & Close EPB
Diagnose EPB/SBC Caliper Functionality
Reset Steering Angle Sensors (SAS)
Display Sensor ID, Battery Life (supported sensors) and Psi
MaxiSYS System Suite Applications - Shop Manager
Save Files with Micro SD Card (32G max. not included)
5,000mAh Lithium-polymer Battery
Complete TPMS Functions
Activate all known TPMS sensors and read sensor status
Diagnose ECU for complete TPMS health check with DTC description
Read DTCs from ECU and erase DTCs
Program MX-Sensors by copying original sensor IDs or creating new IDs randomly
On-tool relearn procedure and wide OBD relearn coverage
Toolkit, special TPMS functions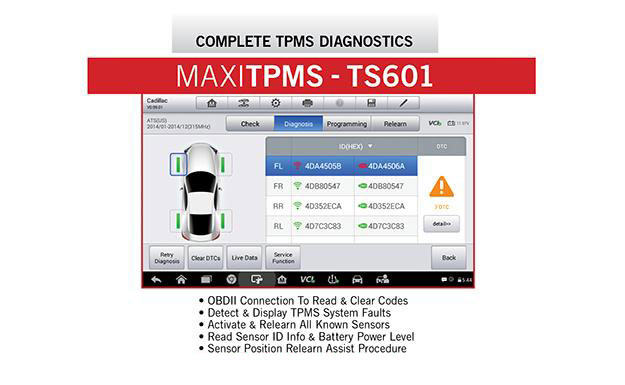 ---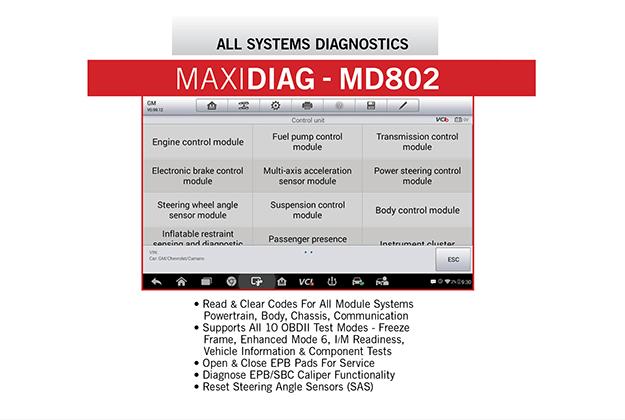 All Systems Diagnostics
Read/clear codes for all available electronic systems
Turn off warning lights
Display live data in text, graph & analog for easy data review
Supports all 10 test modes of the latest J1979 OBD II test specs
Enhanced OBDII Mode 6
---
Advanced Service Features
Relearn parking brake pad after replacement
Reset Steering Angle Sensor (SAS)
Reset service mileage and service intervals
Forced regeneration and adjusting injectors
Support battery registration and reset
Support IMMO functions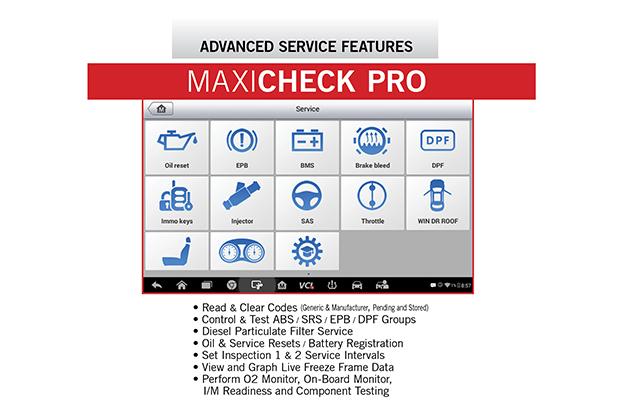 ---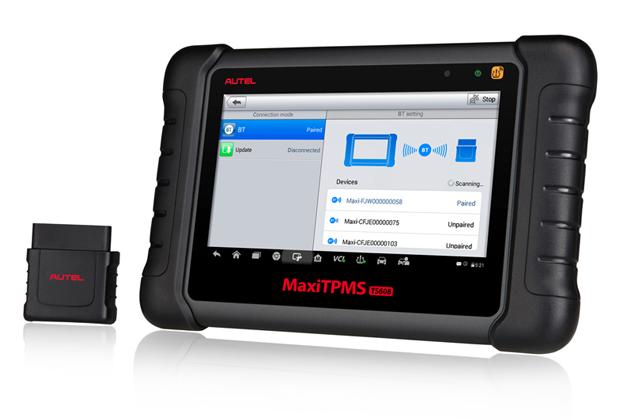 Wireless BLUETOOTH MaxiVCI Mini
The latest compact size Wireless Bluetooth® MaxiVCI Mini OBDII connector can transmit vehicle data to the tablet without a physical connection. Enhanced wireless bluetooth connectivity between the tablet and VCI device allows greater service mobility and easier TPMS sensor interaction while the tablet is still connected to the vehicle for data transmission.
Additional information
| | |
| --- | --- |
| TS6081YRUPDATE: | Total Care (TCP) for TS608 $295.00 |
Specifications
Recommended Use
Indoor
Operating System
Android™ 4.4.2, KitKat
Processor
Cortex-A9 processor (1.6 GHz)
Memory
1GB RAM DDR3 & 64GB ROM
Display
7-inch LCD capacitive touchscreen with 1024×600 resolution
Connectivity

Mini USB 2.0
USB 2.0
Wi-Fi
HDMI Type A
Micro SD card slot (supports up to 32GB)

Sensors
Light sensor for brightness auto adjust
Audio Input/Output
Power and Battery

3.7 V/5000 mAh lithium-polymer battery
Charges via 5 VDC power supply

Tested Battery Life
Around 7 hours of continuous use
Battery Charging Input
5 V/1.5 A
Power Consumption
600 mA (LCD on with default brightness, Wi-Fi on) @3.7 V
Operating Temperature
-10 to 60°C(14 to 140°F)
Storage Temperature
-20 to 70°C (-4 to 158°F)
Operating Humidity
5% – 95% non-condensing
Dimensions (W x H x D)
270.8 mm (10.0") x 176.0 mm (6.9") x 36.0 mm (1.4")
Net Weight
885 g (2.31 lb.)
Protocols
ISO9141-2, ISO14230-2,ISO15765, K/L-Line, Flashing Code, SAE-J1850 VPW, SAE-J1850PWM, ISO11898 (Highspeed, Middlespeed, Lowspeed and Singlewire CAN, fault-tolerant CAN), SAE J2610, GM UART,UART Echo Byte Protocol, Honda Diag-H Protocol, TP2.0, TP1.6
What's Included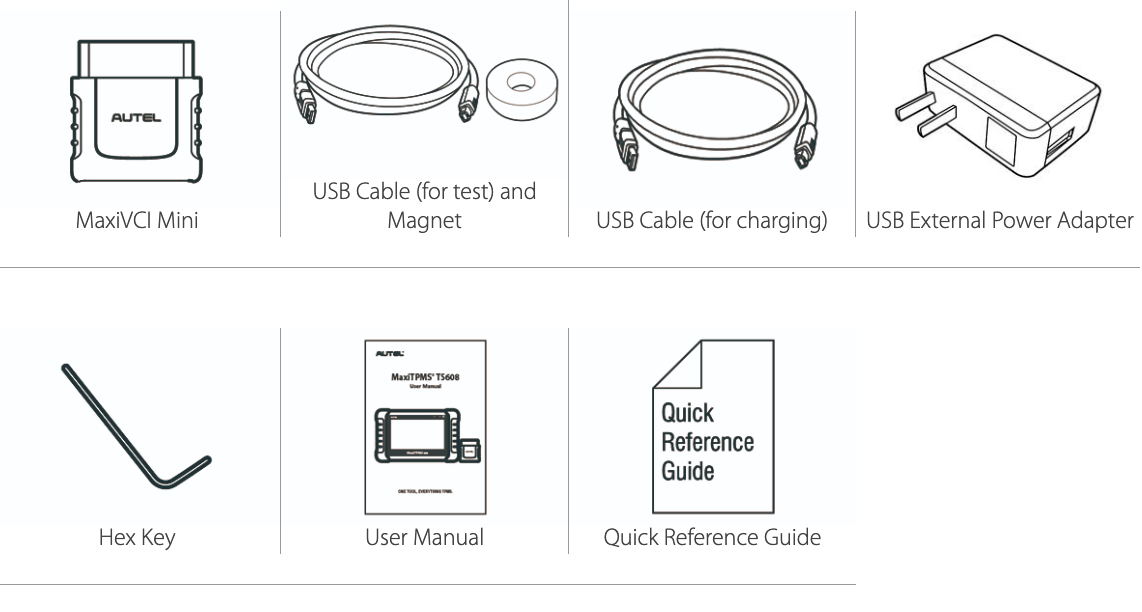 Compare Similar
MaxiTPMS TS508
MaxiTPMS TS608
MaxiTPMS ITS600
HARDWARE
Connection

OBDII Cable

Screen

320 x 240 DPI / LED Color Screen

1024 x 600 DPI / LED Color Screen

1280 x 720 DPI / LED Color Screen

Battery
Processor

—

QUAD-CORE

QUAD-CORE

Memory

—

(up to) 32GB micro SD card not included

Camera

—

—

8.0 MP

with flashlight

SOFTWARE
Operating System

Easy tool navigation

Software Updates

Update Via Wi-Fi

update via wi-fi

Automatic Detection

—

Auto-

Vin

/ Auto-

Scan

Scan Vin / Plate Scan

Service Resets

—

Standard Features

OLS / EBS / SAS / BMS

System Diagnostics

—

all modules in all systems

—

Battery Analysis

—

—

Battery Testing Software***

with update

TPMS Sensor

—

TPMS Diagnostics

Enhanced

TPMS Status Screen

Enhanced

TPMS Status Screen

Read/Activate/Relearn

All known sensor brands

All known sensor brands

All known sensor brands

Programming Methods

2 Methods

MX-Sensors only

2 Methods

MX-Sensors only

2 Methods

MX-Sensors – Fast Batch Programming

Relearn Procedures

With on-tool procedures

With on-tool procedures

With on-tool procedures

Print Sensor Data
Repair & Test Data

Access 1 previous test

MaxiSYS System Suite

—

Remote support & data logging

Remote Support & Data Logging

TPMS Mode Options

Quick or Advance

2 Modes TPMS service

—

—

Compatible with TBE200

—

—

Complete TPMS & Tire Health Report

Tire Registration

—

—

On-tool DOT Tire Registration & Recall Lookup**