Laser-Enabled Tire Tread Depth Examiner
The MaxiTPMS TBE200 is a laser-enabled tire tread depth & brake disc wear examiner that provides users with quick and accurate wear measurements. Measure brake disc wear without having to remove tires. The full color graphical display illustrates wear and displays replacement and service recommendations including tire and brake disc replacement and tire rotation and 4-wheel alignment. The TBE200, which features a 1.65" AMOLED Super Retina touchscreen display, , enables users to document tire wear and damage and scan Tire Identification Number (TIN) via its 4-megapixel macro camera and 8-megapixel zoomable camera. Use tool separately, or with compatible Autel TPMS tablet to view and print detailed TPMS reports. Includes a one-year limited warranty.
Tire Tread and Brake Disc Wear Examiner
Laser-Enabled; No Need to Remove Tire
1.65" AMOLED Super Retina Touchscreen Display
Full Color Graphical Display Illustrates Wear
Compatible with Passenger, Commercial and Off-road Vehicles
Displays Recommendations for Tire and Brake Disc Replacement, 4-wheel Alignment and Tire Rotation
4-megapixel, 4 cm Macro Camera and 8-megapixel Zoomable Camera to Document Tire Damage
Tire health report QR code for easy sharing
Work Alone or with New MaxiTPMS ITS600 Tablet
Scan Tire Identification Number (TIN)
3000 mAh Lithium-Ion Battery
Laser Measurement
Tire tread depth & brake disc wear check in one tool, no need to remove the wheel during measurement
Laser measurement with 0.1mm accuracy
Full tread measurement
Quick Check both tread depth & brake disc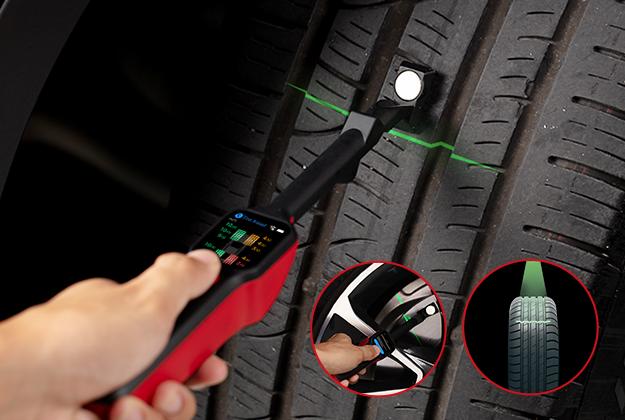 ---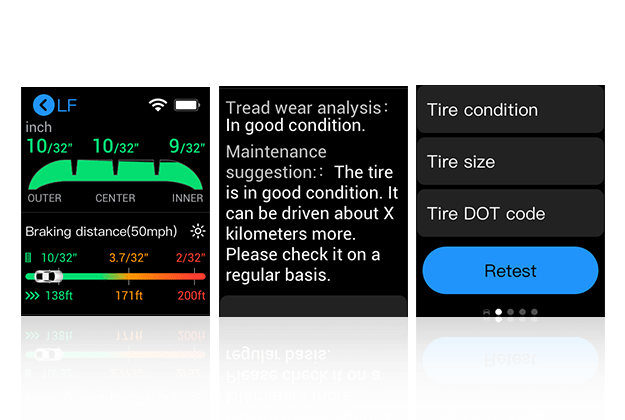 Real-time Tire Health Analysis
Real-time measurement data on touchscreen
Measurement data curve display
Uneven wear analysis
Detailed replacement & maintenance suggestions (tire/brake disc replacement, tire rotation/alignment servicing)
Scan DOT, tire expiration notice, tire recall lookup
Take photos of tire wear & damage
---
Comprehensive Test Report
Comprehensive Test Report: TPMS health, Tire tread depth & brake disc wear characteristics & Repair tips (Requires ITS600)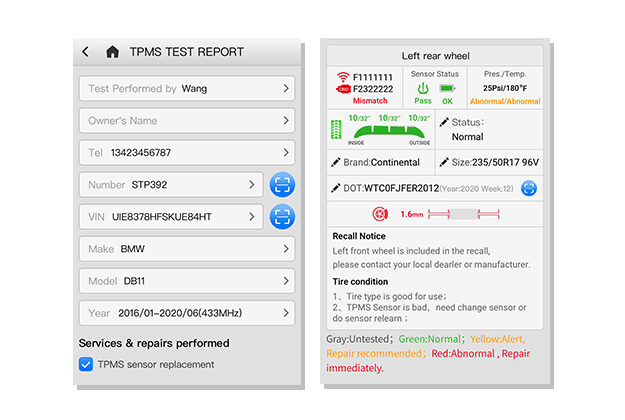 ---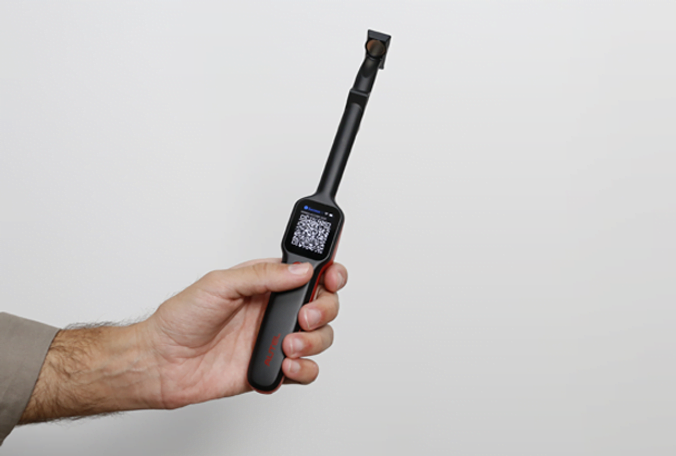 Easy To Use QR Code Report Download & Sharing
Generate QR codes for tire tread depth and brake disc measurements to allow for easy report sharing & download via mobile phones or tablets.
Specifications
Recommended Use
Indoor
Processor
4x ARM Cortex-A35 (1.5 GHz)
Memory
1GB RAM LPDDR3 & 4GB ROM
Display
1.65-inch AMOLED capacitive touchscreen with 348×442 resolution
Connectivity
Camera
CMOS WXGA, 1 megapixel & 8 megapixel, 30fps
Audio Output
Output: Beep
Power and Battery

3.7 V/3000 mAh 18650 lithium-ion battery
Charges via 5 V AC/DC power supply

Tested Battery Life
Around 8 hours of continuous use
Battery Charging Input
5 V/1.5 A
Power Consumption
300 mA (AMOLED on with default brightness) @3.7 V
Operating Temperature
-10 to 45°C(14 to 113°F)
Storage Temperature
-20 to 60°C (-4 to 140°F)
Dimensions (W x H x D)
283.0 mm (11.14") x 39.0 mm (1.54") x 33.5 mm (1.32")
Net Weight
188 g (0.41 lb.)
What's Included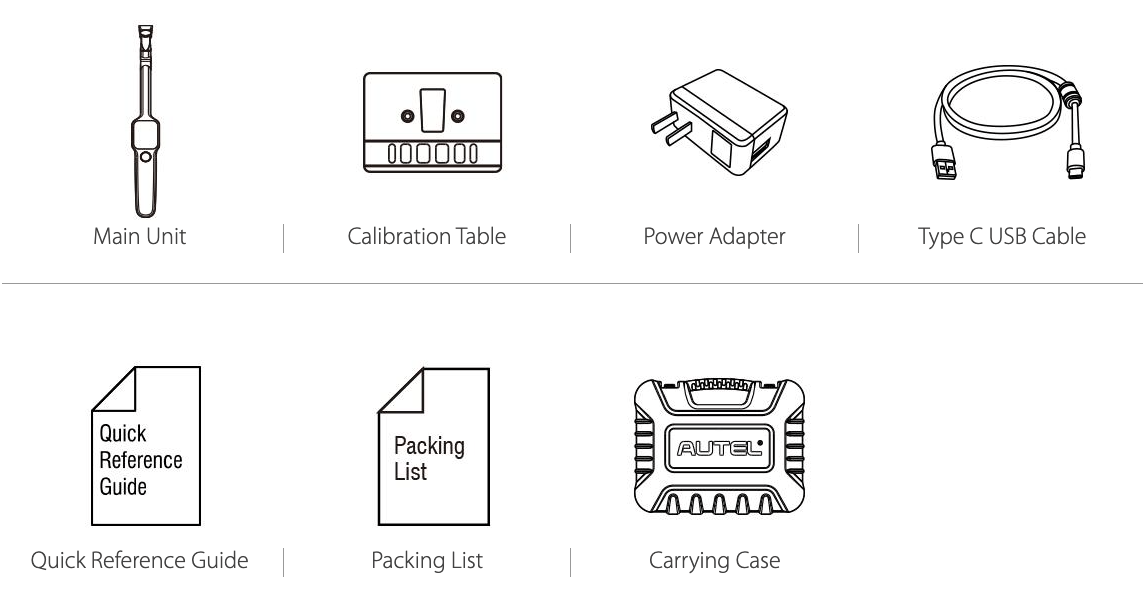 Compare Similar
| | MaxiTPMS TBE100 | MaxiTPMS TBE200 |
| --- | --- | --- |
| | | |
| HARDWARE | | |
| Screen | 1.65″ AMOLED Super Retina Touchscreen | 1.65″ AMOLED Super Retina Touchscreen |
| Battery | Lithium-ion 3000mAh | Lithium-ion 3000mAh |
| Processor | Vibration Reminder | Vibration Reminder |
| Memory | 4GB Flash / 1GB RAM | 4GB Flash / 1GB RAM |
| Camera | 1 Megapixel Macro Camera | 1 Megapixel, 4cm Macro Camera; 8 Megapixel 10cm zoomable Camera |
| COMPARE FEATURES | | |
| Tire tread depth/ brake disc wear measurement | Yes | Yes |
| No need to remove the wheel during measurement | Yes | Yes |
| Laser measurement | Yes | Yes |
| Measurement accuracy | 0.1mm | 0.1mm |
| Real-time measurement data on touchscreen | Yes | Yes |
| Measurement data curve display | Yes | Yes |
| Full tread measurement | Yes | Yes |
| Uneven wear analysis | Yes | Yes |
| Replacement & Maintenance suggestions | Tire replacement, brake disc replacement, tire rotation, four tire alignment | Tire replacement, brake disc replacement, tire rotation, four tire alignment |
| Quick Check | Yes | Yes |
| Test detail for single tire tread / brake disc | Yes | Yes |
| Comprehensive Test Report with TPMS | (With the ITS600) | (With the ITS600) |
| Scan DOT | — | Yes |
| Tire expiration notice | — | Yes |
| Tire recall lookup | — | Yes |
| Take photos of tire wear and damage | — | Yes |
| Compatible with | Passenger cars, off-roads, commercial vehicles | Passenger cars, off-roads, commercial vehicles |