Every problem is an opportunity in disguise, the old saying goes. Mechanical repair shop owners faced with the growing number of Advanced Driver Assistance System (ADAS)-equipped vehicles coming into their repair bays may want to take note of the adage.
But, first, they must rid themselves of the misconception that the repairs and services they perform don't affect the functioning of the components and cameras integral to ADAS. Any engine or transmission repair or replacement that involves the removal of the front grill housing a radar or camera unit will necessitate a calibration once the grill is reinstalled. Further, most vehicle manufacturers' position statements recommend an ADAS calibration after any alignment that changes a vehicle's thrust angle or ride height. The simple truth is if your shop is doing alignments or a host of any number of repairs, your shop should be doing ADAS calibrations.
With 99 million ADAS-equipped vehicles already on North American roads and 210 million projected by 2030, ADAS calibrations will likely become a commonplace last step in mechanical repair services.
So, general repair shops must face the same "problem" as collision and glass shops have since safety systems became popular options on brand models: How to handle vehicles needing ADAS calibration after the repair? The shops that choose to sublet calibrations to dealerships and others lose the revenue from the calibration, the time associated with scheduling and moving the vehicle, and the assurance of quality care that comes with key-to-key, in-shop service control.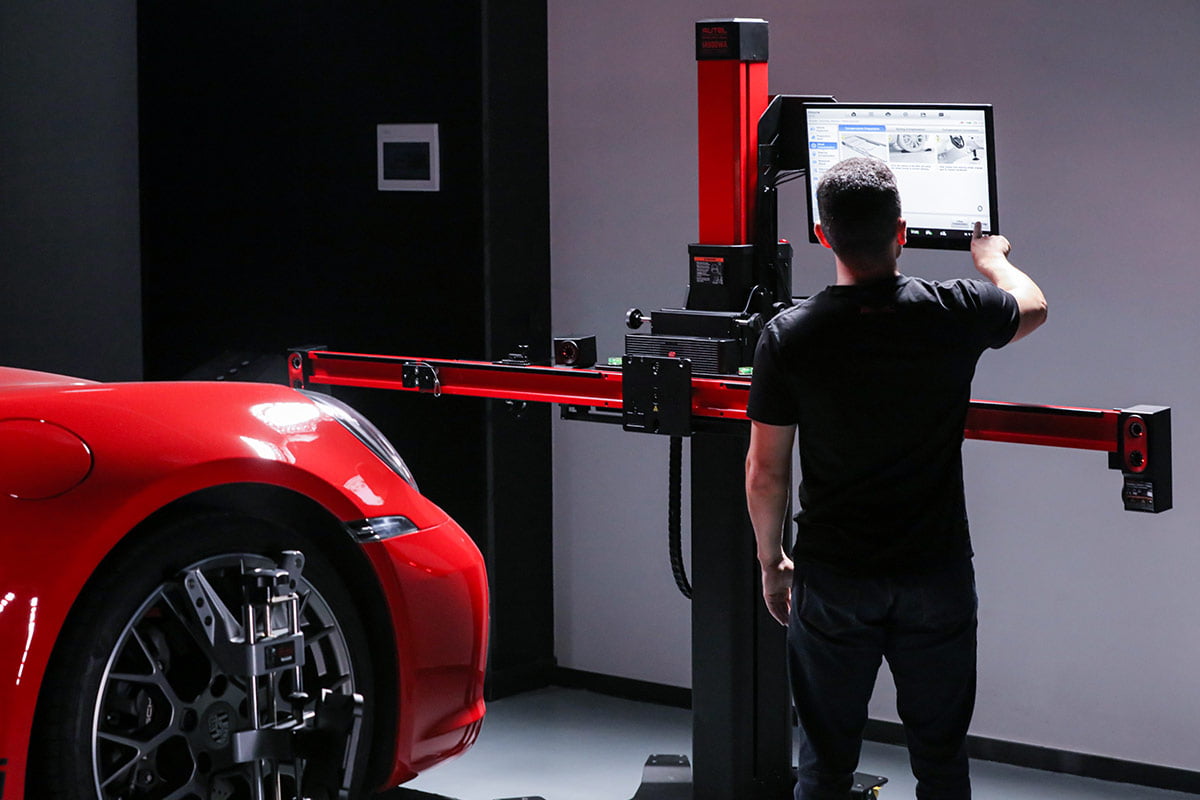 The Autel MaxiSYS IA900WA, an industry-first all-in-one wheel alignment system, and ADAS calibration frame, presents a new, comprehensive approach to vehicle servicing, the type required by today's sophisticated vehicles. The IA900WA guides the technician through an all-systems diagnostic, a digital chassis and tire inspection, a four-wheel alignment, and ADAS calibration.
Compatible with any standard, four wheel alignment rack, the IA900WA offers alignment coverage for U.S., Asian and European vehicles, 1996 and newer. The system guides the user through the process with illustrated alignment instructions, live readings, and action steps. Alignment readings displayed on a mounted 24-inch touchscreen monitor mirror those on the Ultra ADAS tablet, enabling the technician to manipulate the vehicle and monitor the adjustment effects freely.
Regarding ADAS calibration systems, Autel offers the industry's most expansive vehicle and safety-system camera and component coverage. To grasp how innovative the IA900WA system is, one only must look at the most time-consuming and laborious part of any ADAS calibration, the pre-calibration vehicle-to-target positioning. It takes, on average, 40 minutes to align and center a vehicle using mechanical aids like lasers, mirrors, plumb bobs, and chalk. The IA900WA, which employs six-high resolution tracking cameras, targeted wheel clamps, and location software, transforms the frame into a rapid yet precise centering and positioning unit, enabling technicians to accomplish target-to-vehicle placement in as little as three minutes.
The shop owner's major investment decisions often involve three questions: Do I need it?; Can I Use it?; Am I able to afford it? ADAS will continue to grow, whether prompted by government mandates or consumer interest. If it's not already here, there will come a time when every vehicle you touch will have ADAS. How you deal with that fact will be integral to the success of your business.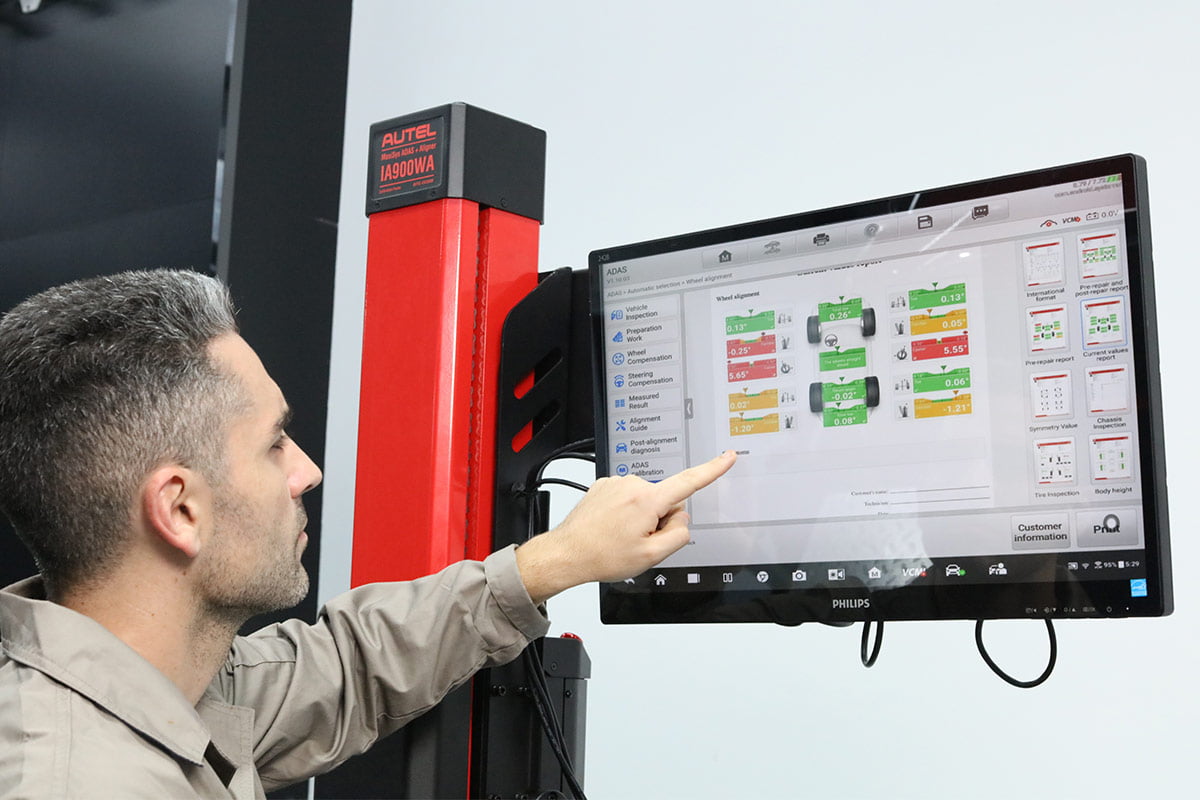 Can I Use it? This question is a two parter: First, can my technicians and I learn to use this system efficiently, or is it so overly complicated that any level of comfortable usability seems years away? Autel designs its hardware and software to be used by knowledgeable and conscientious technicians. With that said, the IA900WA offers a detailed, process-driven approach to complete vehicle servicing that guides the technician to perform each needed task step-by-step. Second: Is my shop large enough to perform ADAS calibrations? Eighty-eight percent of the most popular and, therefore, the most-often calibrated systems, forward-facing and blind spot monitoring calibrations, can be executed in a typical sixteen-by-thirtyfoot repair bay.
And the final question, Can I afford the investment? The IA900WA comes in three packages, and each caters to your shop's evolving needs. Choose from the Alignment-only unit package, Alignment with Lane Departure Warning targets and patterns, or Alignment with All (ADAS) Systems calibrations capability. Each package is available with the Ultra ADAS tablet. Shops using the IA900WA have realized a return on investment in as little as a month. Considering the national average for a four-wheel alignment is $134, and the average calibration cost is $350, depending on your shop's volume, the potential is there for your shop to realize the same return. Visit the ADAS page on Autel.com and work the numbers out for your shop with our Return-on-Investment calculator.
Increased profits may be your ADAS problem's most alluring disguise.
Explore our ADAS & Alignment Systems.