MaxiTPMS TS408 – TPMS Service Tool
The MaxiTPMS TS408 is an easy-to-use handheld TPMS service tool that can activate and read sensor IDs, battery life and tire pressure and temperature. The TS408 can also program MX-Sensors to replace OE sensors and can display on-screen relearn procedures for all TPMS-equipped vehicles. The TS408 is designed for quick TPMS serving of all TPMS equipped domestic, Asian and European vehicles. The user simply selects the vehicle make, model and year and then is prompted to activate sensors in order. Depending on the vehicle, the tool will display tire pressure and temperature, the sensor ID and battery life. The TS408 can also program MX-Sensors to replace a damaged or no-longer functioning sensor. Using the TS408, the technician can program up to 16 MX-Sensors at one time. Original sensor IDs can be cloned as long as the original sensor ID can be read. MX-Sensors can be programmed to replace 98 percent of the TPMS sensors on the road today. The TS408 also displays every vehicle's relearn instructions in detail. Software updates are free for the life of this tool ensuring the vehicle coverage remains current. The TS408 comes with a 1-year warranty. Includes free technical support.
Read and Activate All Known Sensors
Display Vehicle-Specific Relearn Procedures
3 Programming Options: MX-Sensors Only
Key Fob Signal Test
FREE Lifetime Software (lifetime of tool) & 1Yr Warranty
Display Sensor ID, Battery Condition (on select sensors) and Psi
2.3" Color Display 320x240
Software Updates via PC / Easy-To-Use Navigation
3200mAh Lithium-polymer Battery
Activate & Read Data
TS408 is designed to activate all known TPMS sensors. When you choose the right vehicle make, model and year, TS408 can easily activate all the sensors and read the sensor ID, pressure, temperature and battery condition.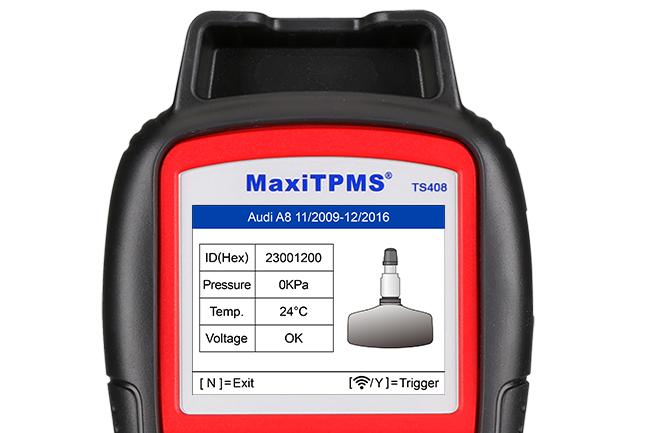 ---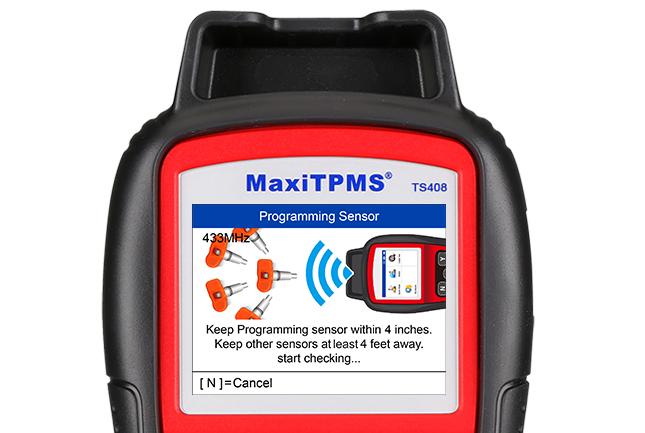 Program MX-Sensor
TS408 can program AUTEL MX-Sensor with three programming options:
Copy By Activation
Copy By Manual Input
Auto Create 1-16
---
On-tool Relearn Procedure
TS408 provides on-tool relearn procedure for every TPMS equipped U.S., Asian and European vehicle. No need for relearn charts or Internet lookups.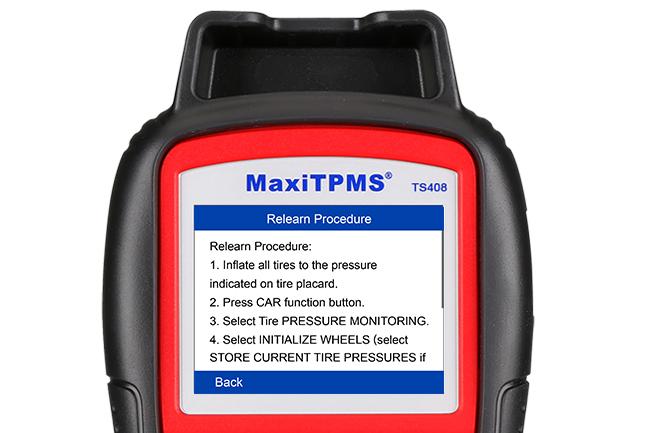 Specifications
| | |
| --- | --- |
| Display | TFT color display (320 x 240 dpi) |
| Power | 3.7 V Li-polymer battery; 3200 mAh |
| Operating Temperature | 0°C to 50°C (32°F to 122°F) |
| Storage Temperature | -20°C to 70°C (-4°F to 158°F) |
| Dimensions (LxWxH) | 215 mm (8.46") / 105 mm (4.13") / 37 mm (1.46") |
| Weight | 0.38 kg (0.84 lb.) |
| Connectivity | Mini USB 2.0 x 1 |
| Warranty | 1 year |
| Software Update | Free |
What's Included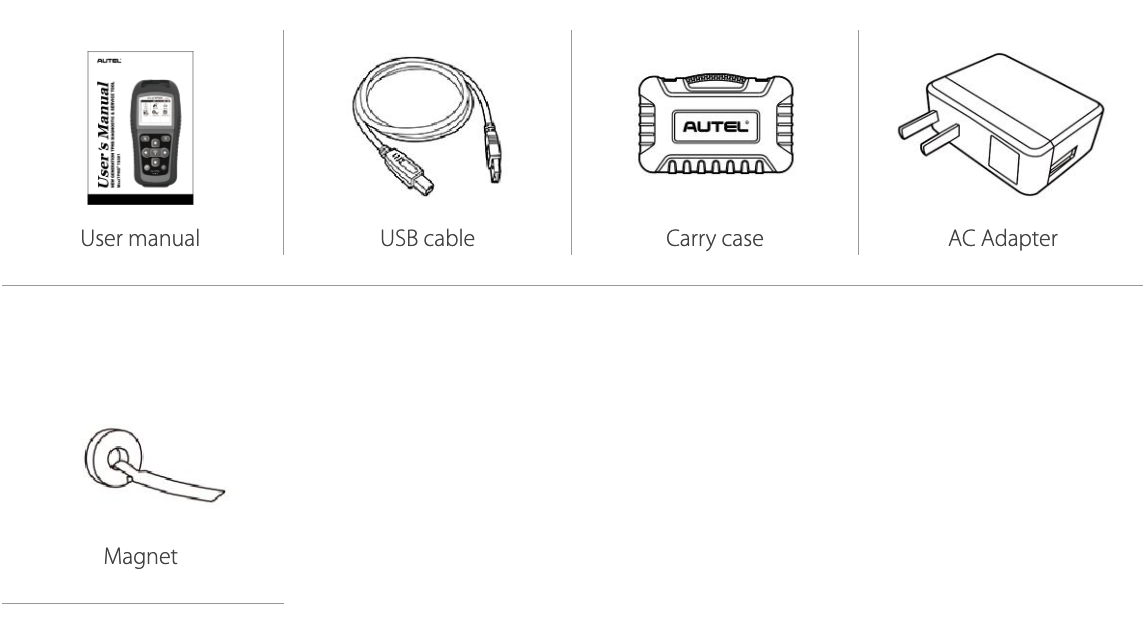 Compare Similar
MaxiTPMS TS408
MaxiTPMS TS508
MaxiTPMS TS608
HARDWARE
Connection

Mini USB 2.0

OBDII Cable

Screen

—

320 x 240 DPI / LED Color Screen

1024 x 600 DPI / LED Color Screen

Battery
Processor

—

—

QUAD-CORE

Memory

—

—

(up to) 32GB micro SD card not included

Camera

—

—

—

SOFTWARE
Operating System

—

Easy tool navigation

Software Updates

Update Via Wi-Fi

Automatic Detection

—

—

Service Resets

—

—

Standard Features

System Diagnostics

—

—

all modules in all systems

Battery Analysis

—

—

—

TPMS Sensor

—

TPMS Diagnostics

—

Enhanced

TPMS Status Screen

Read/Activate/Relearn

—

All known sensor brands

All known sensor brands

Programming Methods

—

4 Methods

MX-Sensors only

4 Methods

MX-Sensors only

Relearn Procedures

—

With on-tool procedures

With on-tool procedures

Print Sensor Data

—

Repair & Test Data

—

Access 1 previous test

MaxiSYS System Suite

—

—

Remote support & data logging

TPMS Mode Options

—

Quick or Advance

2 Modes TPMS service

—

Compatible with TBE200

—

—

—

Tire Registration

—

—

—